Train Bandits



The bandits with the trophy that they have stolen on the train

Season:
1
Production code:
115a[1]
Broadcast number:
3
Written by:
TBA
Storyboards by:
TBA
Broadcast Information
Disney US Premiere:

January 20, 2014[2]
International Debut:
None
See more...
"
There's nothin' like ridin' on a train and hearin' it chugga-chug along!
"

— Sheriff Callie
Sheriff Callie saves the day when bandits try to rob her fellow train passengers.
Episode Summary
It all starts on the train ride to Junctionville. Callie is going to compete in the Sheriff's Contest. If Callie wins the contest, she'll receive a trophy with a star made of pure gold. The winner will be the sheriff that proves they're brave and true. During the ride, Callie sings her train song. After the singing makes Callie thirsty, her and Peck go to drink. The train bandits appear drinking. The bandits lock the train door, and then announce to the rest of the train members that it's now a sticky-up and the train members have to be taped up. Then, Peck and Callie hear that there are now train bandits. Callie walks up to the door and sees that the bandits have locked the door. They go to the top of the train to save it. Peck doesn't know if it's safe but they have to dodge the tunnels. When Callie says "duck!", Peck says that he's not a duck, he's a woodpecker. Though, Callie is saying to dodge the tunnel. Then, they go inside the train to see the villagers taped against the wall of the train. Callie learns that the bandits have stolen the trophy. Toby is assigned to free the other passengers. Sheriff Callie and Peck the Deputy walks in to see that the train bandits did actually steal the trophy. They have to fight with the bandits! When the two train cars get separated, the train passengers are in danger! The prairie dogs sing their song about Callie having a decision to either rescue the train members or catch the bandits. The bandits have not seen the last of Sheriff Callie. Sheriff Callie does some brave sheriff action to rescue the train: she might win the Best Sheriff Contest! Once they rescue the train, Callie puts the bandits under arrest. Retrieving the trophy back from the bandits, Callie gets the trophy.
Transcript
For a full transcript of Train Bandits, click here.
Gallery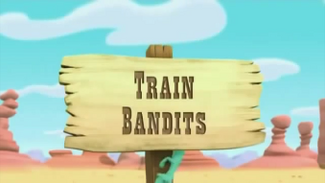 The image gallery for Train Bandits may be viewed here.
Trivia
It is revealed that Toby absolutely loves riding trains. So as Callie.
this is the first time (other then the theme tune) that Callie plays here guitar
References